Do You Have to Post Video Surveillance Signs near Security Cameras?
Video surveillance cameras are more popular than ever in both homes and businesses. Do you know the laws in your state when it comes to security cameras or CCTV systems and security signs?
What are Video Surveillance Signs?
Video surveillance signs are often placed nearby surveillance cameras to notify guests, employees, and passersby that they are being monitored.
Video surveillance was originally used interchangeably with the term CCTV or closed-circuit television. Due to the high cost, CCTV was typically reserved for large corporations where equipment was monitored from a staffed control room.
Due to recent technological advances including less expensive cameras that can be easily installed and monitored via smartphones, surveillance cameras are becoming popular in homes and companies of all sizes - many are installed as part of their security systems or smart home packages.
Video surveillance signs can mean different things to different people.
Generic Surveillance Signs for Home Owners
If you are a homeowner looking for a cheap sign for your own use, consider one of these generic options - at $14.99 for a 2 pack, you can't go wrong. If you are looking for generic video surveillance sign options, these are a great deal, especially considering that they come with their own yard sign stakes.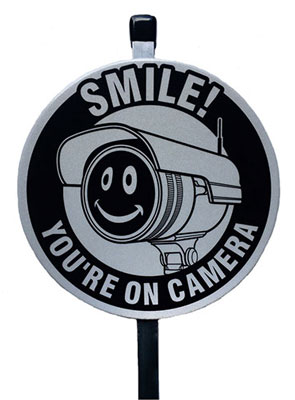 This is a 6" circle with the words "Smile! You're on camera" printed around a friendly looking surveillance camera. It is printed on weatherproof material and finished with a reflective silver coating. The Smile You're On Camera sign is adhered to a 24" yard sign stake with a rubber safety cap.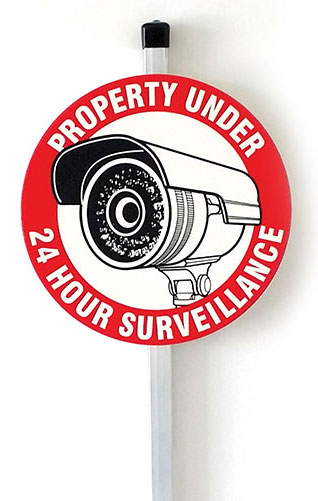 This is a 6" circle with the words Property Under 24 Hour Surveillance" printed around a surveillance camera. This surveillance message is printed using red and black UV inks, creating a weatherproof sign. It is adhered to a 24" yard sign stake with a rubber safety cap.
Custom Security Signs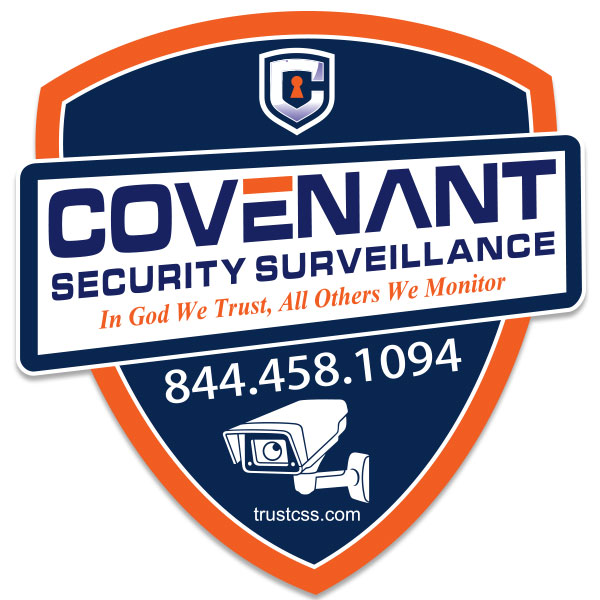 If you own a security company, you are probably accustomed to leaving behind some type of security sign in the yard and/or security stickers with your logo and contact information on it. These marketing tools are both a powerful promotional tool for your business and provide peace of mind to your clients by serving as an intruder deterrent.
With smart homes (and offices) increasing in popularity, it is likely that you are installing surveillance cameras more often - but do you know the law when it comes to posting video surveillance signs? Is it necessary to notify guests, employees, and passersby that they are being monitored?
According to LegalBeagle.com, state laws differ but, in general, you are not required to post a sign to use a video camera in a public area, like in front of a home, or a privately owned area that is not used by the public, like a backyard.
The general rule of thumb regarding video surveillance in the United States is that you're allowed to record surveillance video in public so long as there's no reasonable expectation of privacy. Places where an individual has a reasonable expectation of privacy include bathrooms, bedrooms, locker rooms, and hotel rooms.
It's important to note that every state has its own laws regarding the use and placement of security cameras and necessary signage, so be sure to check your local, state, and county laws regarding surveillance cameras to be sure.
Although in most circumstances it is not required to post a sign to notify guests or employees that they are being monitored through video surveillance, there are several reasons why it would be a good idea to do so.
Nobody likes surprises, especially when it comes to being monitored, so it is a nice courtesy to display a sign to let people know that they are under video surveillance. It's likely that this type of security sign will actually improve their behavior and possibly decrease the number of incidents.
Reason number one makes installing a video surveillance sign near their cameras a value added tool for your clients.
As an installer of alarm or security systems, adding a custom video surveillance sign with your company's logo on it can serve as a powerful marketing tool, especially in public areas that get a lot of foot traffic.
If you already have yard signs and security stickers, why not have a matching video surveillance sign created?
Security Signs & Decals has been a leading manufacturer of security signs and stickers since 1987. We take pride in providing high quality products, competitive pricing, and superior customer service. All of our products are proudly made in the USA!
Best of all, we offer FREE design services so you can see how your video surveillance signs will look before you order. Ready to give it a try? Call (800) 642-8444 or click here to get started with your free design services.